Sports Massage Therapy in Blacksburg, VA

Our talented therapists have experience using sports massage therapy to keep elite athletes as well as weekend warriors at peak performance.  All of our massage therapists maintain high levels of proficiency in anatomy, physiology and kinesiology so we can address your specific needs. 
Whether you need to recover faster after an injury or are focused on preventing muscle imbalances that can lead to an injury, we are here to help.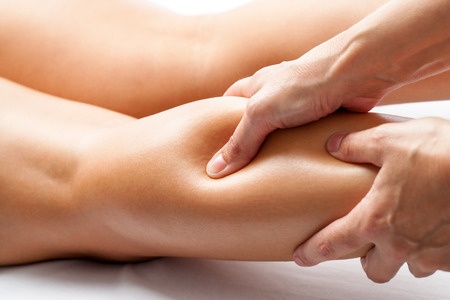 Our therapists have experience with both rehabilitative and restorative sports massage therapy. 
Rehabilitative sports massage focuses on healing an injury faster so an athlete can get back to a normal training routine faster. 
One striking example of rehabilitative massage involves a VT rugby player that came to us with a 10mm tear in his hamstring.  Between weekly massages and chiropractic, he went from 30% to 100% in just two months, allowing him to play at his usual high level in the National Championship Tournament. 
Restorative sports massage focuses on injury prevention.  It is used in between sporting events and during training.
Our most notable example of restorative massage techniques involves elite sprinter Charles Clark as he prepared for the Olympic Games in Rio.  We were so proud and honored to be a part of his Olympic Team! 
Charles Clark is ranked among the fastest in the world.  He has three NCAA National Championship titles, ten time All-American titles, and he placed as the sixth fastest man in the World at the IAAF World Championship!
He received sports massage from us once or twice a week depending on his training schedule.  He was training for the 200 meter sprint. 

Unfortunately, he did not make it to the Olympics for 2016.  We were very sad to hear the news, but Charles is looking toward the World Championship in 2017.
Keep up with his story at his website Charles Clark USA.
Photo used with permission from Charles Clark

"As a world class athlete training for the Track and Field 2016 Olympic Games it is extremely beneficial to recover any damaged muscle tissue after my intense workouts.  Getting massages with Relax Blacksburg twice a week allows my body to rejuvenate, release tension in my muscles and perform at peak performance every week!  I'm healthier, I'm faster, I'm game ready thanks to Relax Blacksburg!" 

-- Charles Clark on May 24, 2016

We are currently working with Olympian Allison Randall, a discus thrower for the Jamaican track and field national team.

Allison began her post-collegiate track and field career in 2010 and captured a bronze medal for Jamaica at the 2011 CAC Championships in Puerto Rico. She was also the first Jamaican female to qualify with a throw of 61.21m to break a 26 year old record to represent Jamaica in the 2012 London Olympic Games.

In 2016, she missed the Rio Olympic qualifying standard by only 6cm, with a throw of 60.94m! 

We use sports massage with her to assist in recovery from the intense demands of her training as well as rehabilitated injuries that have occurred. 
Allison is determined to make it to the 2020 Tokyo Olympic Games.
Let's all wish her the best of luck!
"As a strength and power athlete competing on the international level, it is important for me to make sure my body is ready to meet the demands of training and competition. The highly-skilled massage therapists at Relax Blacksburg play a crucial role in my recovery in order to train at my best.

Photo used with permission from Allison Randall

As I prepare for the upcoming outdoor track and field season, I know my weekly sessions at Relax Blacksburg will aid in my muscle rejuvenation and joint mobility to allow me to excel in my sport."
--  Allison Randall on November 1, 2017

Let us help you with your
sports massage therapy needs

You do not need to be an elite athlete to benefit from sports massage.  Even if you only workout a few times a week, it can be of great help for injury prevention.  Sports massage therapy can correct imbalances caused from muscle overuse, keep proper range of motion, correct postural issues as well as relieve tension, stress and swelling.
Check out this testimonial from a family physician/weekend warrior:

"Amazing! Thank you Brian! Very professional, excellent knowledge and technique. Highly recommend.

I had to make an appointment for a massage after developing severe neck and shoulder pain the morning before participating in the annual Mountains of Misery ride after sleeping on a poor mattress. Having driven 6 hours from Philadelphia and staying for Memorial Day weekend I was upset at the idea of not being able to complete the 128 mile ride due to the pain.

Brian greeted my wife and I at the door and had me complete a standard health questionnaire which he thoroughly went over to get a better idea of my problem.

He then clearly explained what techniques he was going to use and why. He then focused his time on the biggest problem areas. Alert to facial and body cues he adjusted his pressure to avoid discomfort. He also frequently asked if the pressure was too much.

Then there was the new heated bamboo rollers! It allows him to work large muscles quickly and with better pressure actuation.

Afterwards I couldn't believe the difference. I had almost full range of neck motion with minimal pain.

A nice hot shower the next morning to open up the muscles and I was ready for Mountains of Misery. Even after 10 hours and 128 miles of biking my neck was only a little sore.

Thanks again Brian!"  --  Dr. Timothy Salkauskis via Yelp on June 1, 2016
---
Relax Blacksburg Home -
Massage Services
-
Sports Massage Therapy
---