Buy Massage Gift Cards
from Relax Blacksburg

Show someone special you care about their health by buying one of our massage gift cards. 
We offer physical gift cards...and virtual ones too!

Our Massage Gift Cards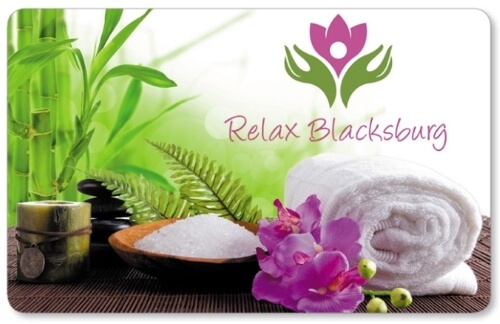 We used to offer just physical gift cards, but clients also wanted the option of sending gift cards via email.  Square now allows that option, so we can give you the option to choose how to send your gift. 
Our massage gift cards can be used for any of our services and products too - like our organic body butters, organic body scrubs, bath salt blends, handmade flaxseed neck and eye pillows, and more. 
All of our gift cards are completely transferable and never expire.  Just keep in mind that they are non-refundable.


Virtual Gift Card Details

Emailing a gift card is easy.  Enter our virtual store here or through the button below.  Then simply choose a card design, choose your gift amount, and enter your name and email as well as the recipient's name and email.

You can even choose to send the gift immediately or at a later date.  Quick and convenient!

Physical Gift Card Details

If you would like to gift your special someone with a physical gift card, keep reading. 

Just please note that our gift cards are like cash.  If one is lost and someone else finds it, that person could then use it.  For this reason, we cannot replace lost gift cards.  
The exception to this is if we can track the gift card with a receipt.  If we can locate the card and clear it, we will issue you a new one minus a $5 fee to replace the card. 
It takes time for us to find missing gift cards, so please give us notice before coming in for your appointment.

Picking Up or Mailing to Yourself?

Want to give the card to your special someone in person?  Mail the gift card to yourself (shipping is always free).  We will ship the gift card out the same day or next day.  You'll get a receipt of purchase right away and another notification once we have shipped the gift card. 
Local mail tends to arrive in two business days.  So if you order the gift card on a Wednesday morning and it ships out that day, it will more than likely be there on that Friday. 

We are available for gift card pick up Monday through Friday from 9am-5pm.  Please call ahead of time to make sure someone will be available to assist you. 

For after 5pm on weekdays or Saturdays also please contact us to schedule a pick-up time as we have some availability between client sessions. 
We are happy to hold the gift cards on site for last-minute gift giving.
Mailing to that Special Someone?

You'll probably want to leave a note for them, right?  Well, we have a custom card with plenty of space for a note from you.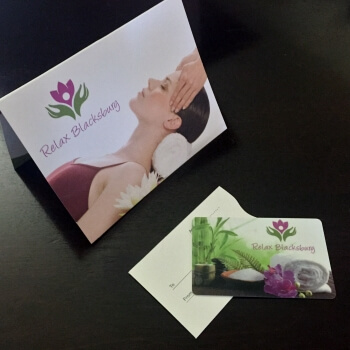 Just make sure to fill out YOUR INFO in the Shipping Information and Payment Information sections (that way you will get the receipt and shipment details).  Then contact us to give us the addressee's name and address as well as the note you would like to put in the card.
Enter our secure store powered by Square by clicking the green button below.  Also, check out our Better Business Bureau rating.

Check your Gift Card Balance
If you would like to check the balance of your gift card, you can do so here:
https://squareup.com/gift/FVW88A7QKRSAS/check-balance

If you have any questions about these gift cards, please feel free to contact us. 
Thanks for choosing Relax Blacksburg!

---
Relax Blacksburg Home
›
Massage Gift Cards
---