Pregnancy Massage and Postnatal Massage in Blacksburg, VA

Is there a better gift to give yourself or an expectant loved one than a pampering pregnancy massage?!
Let massage help ease those discomforts that come with pregnancy.
Massage during this time of great change can help reduce stress and anxiety, improve mood, increase circulation, relieve aches and pains, reduce swelling in the arms and legs, improve posture and provide more restful sleep. 
Massage is perfectly safe during all trimesters of a normal pregnancy.  If you have any questions about your particular health situation, seek the advise of your doctor before getting a massage. 
And don't forget that our handmade massage lotion is only made with the finest organic ingredients, so you can feel good about putting it on your skin.  We do not add any scent for pregnancy massage in case you find certain scents nauseating. 
If you would like scent added, there are some essential oils that are safe for pregnancy - such as orange, grapefruit, lemon, lavender, and frankincense.  Added aromatherapy is always complimentary.
Pregnancy Massage During First Trimester

The American Pregnancy Association states that massage is safe during all three trimesters of a normal pregnancy.

Yet rumors stating that massage therapy increases risk of miscarriage in the first trimester persist, even among some massage therapists.  These rumors are just that.  They are unfounded and simply not based on the facts.   
The first trimester is certainly the most unstable period in a woman's pregnancy.  More than eighty percent of miscarriages happen during this time - whether the women are receiving massage or not. 
Some therapists do not want to be wrongly blamed for a miscarriage, so they will refuse to work on women in their first trimester.  Other therapists unfortunately just repeat these rumors without looking up the facts.       
We strongly believe in the benefits of prenatal massage during the entire pregnancy, so we will not refuse you because you are in early pregnancy.  Just please understand that there is no link between miscarriages and massage. 
Again, if you have any concerns or questions, please speak with your doctor prior to booking your massage. 

Positioning During Your Massage

There are certain massage modifications that need to be done when you are in your second and third trimester, which is why you should definitely choose a therapist that has extra training in prenatal massage. 
After your first trimester, regular prone (face down) and supine (face up) positions are no longer appropriate and may be unsafe without proper use of supportive cushions. 
Supine positions need to be modified by slightly elevating the upper body and placing a cushion under the right hip.  This prevents supine hypotensive syndrome which causes dizziness from the uterus compressing major blood vessels and reducing circulation. 

Side-lying is the preferred position for women in the second and third trimester.  Pillows are typically used to prop and align, but we have found a cushioning system that assures ergonomic positioning and support.  Clients tend to find it more comfortable than just pillows alone.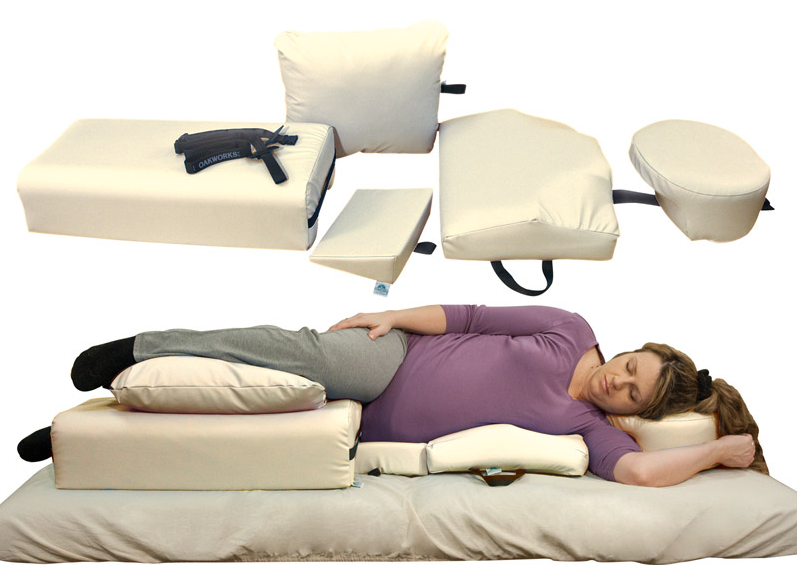 Oakworks Side Lying Positioning System
Some women really don't like the side-lying position though.  Plus some really crave the ability to lie on their stomachs again.  For them, we have a prone cushioning system that is specially designed to support a pregnant woman's growing belly and breasts. 
Just keep in mind that if you are experiencing heartburn and/or nasal congestion during your pregnancy, this probably isn't the position for you.
You are welcome to try it though.  If it doesn't work out, we can change the cushioning during your massage.  We want you to be comfortable, so please speak up if something isn't quite right.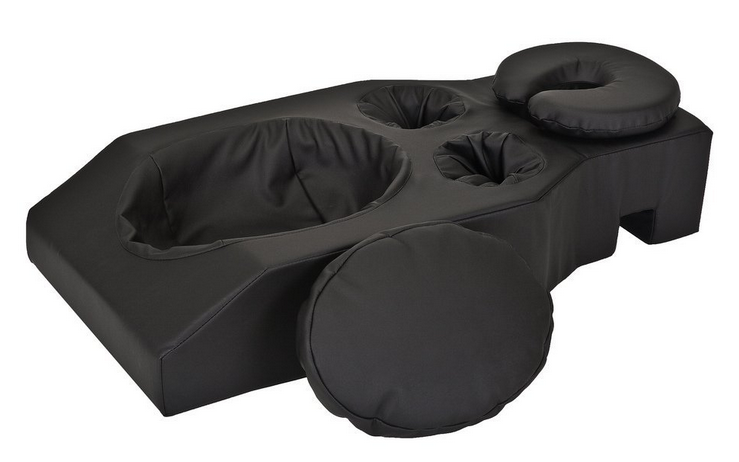 Earthlite Pregnancy Cushion System
Postnatal Massage

Don't forget about massage after your baby is born!  Postpartum massage is the first six weeks after birth and it can be just as important as pregnancy massage.  You may start receiving postnatal massage as soon as you feel ready. 

Besides helping the mother by reducing stress, tension, soreness and promoting much-needed relaxation, postnatal massage has very specific benefits.  It can regulate your hormones, promote better sleep, reduce swelling and improve breastfeeding.  It can also help your body heal faster post-delivery.  Postnatal massage has also been shown to help with anxiety and postpartum depression.  
Positioning for the massage solely depends on what position you find most comfortable. 
Whether you come to us for pregnancy massage, postnatal massage, or both - we are happy to work with your doctor to meet your specific needs. 
Still have questions?  Contact us.

---
Relax Blacksburg Home -
Massage Services
-
Pregnancy Massage
---