Hot Bamboo Massage Therapy in Blacksburg, VA

Hot bamboo massage is a relatively new massage modality mainly only offered in high-end spas and resorts.  Relax Blacksburg is very proud to bring bamboo massage, also called bamboo fusion, to the New River Valley. 
When we first read about it, we instantly knew that it would be something our clients would love.  We immediately went to work learning all we could about incorporating the bamboo into our massage sessions.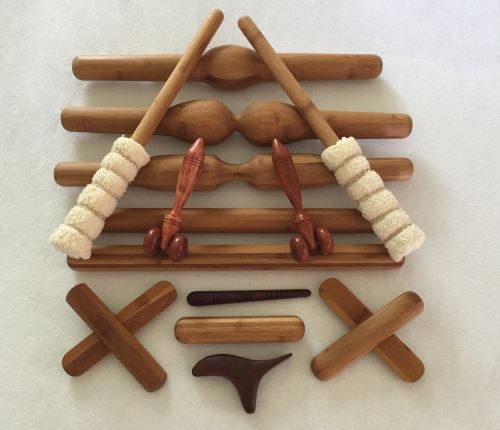 Bamboo tools used in the session
What is Hot Bamboo?
This modality involves using heated bamboo sticks of different lengths and diameters as extensions of the therapist's hands and arms.  The pressure is easily adjusted as necessary allowing the therapist to go from light to incredibly deep depending on client preferences and needs.    
Sometimes sanded canes are used, but we prefer our bamboo tools to be more uniform.  The ones we choose are cut from cross sections of solid bamboo that are then compressed and cut into various shapes.  The tools are finely sanded only - no varnishes or finishes are ever applied. 
Benefits of Hot Bamboo Massage

The heated bamboo tools give a soothing sensation that is truly unique to the bamboo. 
It brings a deeper level of relaxation as it increases blood and lymph circulation.  It melts muscle tension, stress and soreness while leaving skin softer and suppler.  Best of all, it just feels great!
We have been using the bamboo sticks on our regular clients for a few months now.  Almost all of them gave glowing reviews, although some still preferred traditional massage over the bamboo sticks.  Try it yourself and see which you prefer!

---
Relax Blacksburg Home -
Massage Services
-
Bamboo Massage
---