Buy Massage Gift Cards
from Relax Blacksburg

Show someone special you care about their health by buying one of our massage gift cards. 
Yes, these are actual cards.  Sure, we could be like our competitors and email you gift certificates...

But...we really don't like the idea of handing someone a piece of flimsy paper as a gift.  Or emailing someone a piece of paper as a gift.  Especially because our business is all about superior quality.   
Our Massage Gift Cards

Humor us a moment as we tell this story -
We seriously underestimated the demand for our gift cards last December and we ran out of cards.  The reorder wasn't going to arrive for three weeks, so we were out of luck.  Quite simply, we messed up, and we had to come up with a temporary solution for our clients that wanted to gift our services.
We decided to make gift certificates until the new cards arrived.  They looked nice enough, for pieces of paper.
We explained the situation to the clients wanting to buy the cards, so that there were no surprises.  People accepted the paper gift certificates, but there was no enthusiasm for them. 
Plus we remember one particular client that picked up a gift certificate for his wife.  He had wanted one for $250.  We handed him the certificate and we could tell he was a little disappointed.  Why?  Because it was a piece of paper!  His expression really stuck with us.

So, these gift cards might be a little bit more inconvenient than emailed certificates. 
But a gift card feels like a gift - and, in our opinion, a piece of paper does not.  Your loved one will appreciate you going through a little more trouble to get something a lot nicer!  Plus our cards fit in your wallet and are much harder to lose. 
Gift Card Details

Our gift cards are completely transferable and never expire.  They are the same size as a credit card, so you can conveniently keep them in your wallet for safe keeping.

Just keep in mind that our gift cards are like cash.  If one is lost and someone else finds it, that person could then use it.  For this reason, we cannot replace lost gift cards.  Gift cards are also nonrefundable. 
Our massage gift cards can also be used for any other items we sell - like our organic body butters, organic body scrubs, bath salt blends, handmade flaxseed neck and eye pillows, and more. 

Picking Up or Mailing to Yourself?

Want to give the card to your special someone in person?  Mail the gift card to yourself (shipping is always free).  We will ship the gift card out the same day or next day.  You'll get a receipt of purchase right away and another notification once we have shipped the gift card. 
Local mail tends to arrive in two business days.  So if you order the gift card on a Wednesday morning and it ships out that day, it will more than likely be there on that Friday. 

We have limited pick-up availability since we do not have a receptionist (we are considering hiring one in the future).   You are welcome to contact us to schedule a pick-up time though as we are available between client sessions.  
We are happy to hold the gift cards on site for last-minute gift giving.
Mailing to that Special Someone?

You'll probably want to leave a note for them, right?  Well, we have a custom card with plenty of space for a note from you.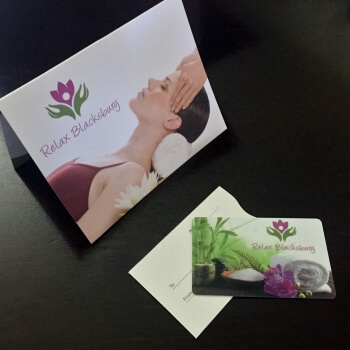 Just make sure to fill out YOUR INFO in the Shipping Information and Payment Information sections (that way you will get the receipt and shipment details).  Then in the optional note field under Order Details, please put the addressee's name and address as well as the note you would like to put in the card.
Enter our secure store powered by Square by clicking the green button below.  Also, check out our Better Business Bureau rating.
If you have any questions about these gift cards, please feel free to contact us. 
Thanks for choosing Relax Blacksburg!

---
Relax Blacksburg Home
›
Massage Gift Cards
---